Interns summon change through the arts!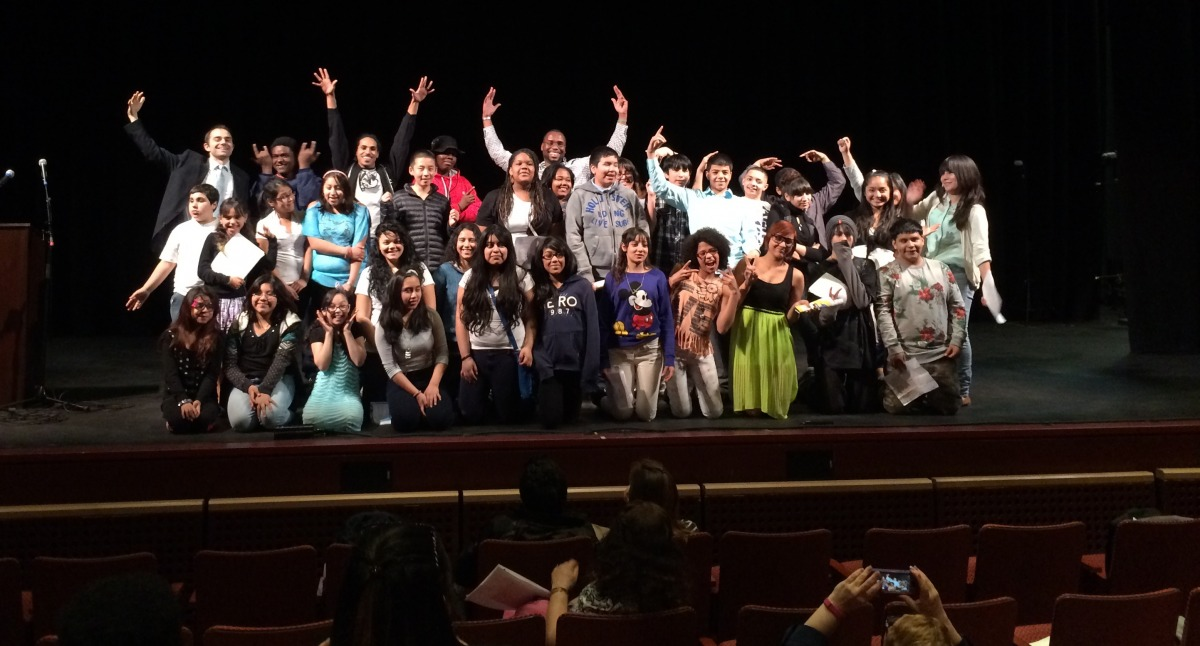 This spring, Solar Youth Interns made a powerful impression on the public from a new platform: Poetry and Spoken Word.  "The WORD: Second Annual Citywide Youth Poetry Jam," was an event to remember, hosted by Aaron Jafferis and presented by the Institute Librarywith New Haven Public Schools Performing and Visual Arts Department, at Cooperative Arts and Humanities High School Auditorium on April 22nd.
The performance was just one highlight in a project made possible by the Perrin Family Foundation.   Hallah Edutainment was in the house to record the show.  Film of the performances as well as workshops will show the exciting process of this ground-breaking project.  
With the momentum from a very engaging Hip Hop/ Poetry writing workshop in February, Interns and Educators revisited some of the themes in a follow-up Forum Theatre workshop on April 11 at City Hall. Of the various challenges Interns had written about, we chose to focus on breaking down a few different themes: gun violence, absent parents, and racial profiling.
The day began with some fun brain games, inviting us to un-do or at least to reveal how our minds and bodies are conditioned to react, to think, and move in certain ways.  We laughed as we tried to obey the opposite-action commands: "When I say jump, you clap.  When I say clap, you jump, etc".  It was not easy!
Next we split up to create an Art Gallery, showcasing work all pertaining to the chosen themes.  Two groups created themed sculptures and scenes out of clean trash; a few others created visual art on posters; another group wrote collaborative poems and raps.  Then as a unified audience, we examined and discussed each art piece, as if in an art gallery, sharing our interpretations freely.  Many of us were very familiar with the themes from life experiences and could relate to the physical and emotional displays.
Action!  We split into two groups to create and act out 3-scene plays that told stories related to these themes.  Based on a model from Theatre of the Oppressed, after viewing the original play, any member in the audience can enact an "intervention," where he or she takes on the role of the protagonist and chooses a specific scene in the play to change the character's action and therefor change the outcome of the story.  We were amazed to see different responses and solutions our peers came up with and demonstrated.  Reflecting back on the conditioning, and the de-conditioning of the mind, and watching each other enact new ways of action, everybody's minds were blown open!
Solar Youth Interns of Spring 2014 created and presented original Hip Hop Poetry, Visual Art, and Forum Theater scenes addressing significant social issues they have experienced. Workshops facilitated by Aaron Jafferis and Josh Williams; Documentary produced by Hallah Edutainment, LLC; Presented by Perrin Family Foundation.