Solar Youth BLOG
What's new in the world of Solar Youth Stewards, partners and community?
January 14th, 2018
Exploring Plants at Broken Arrow Nursery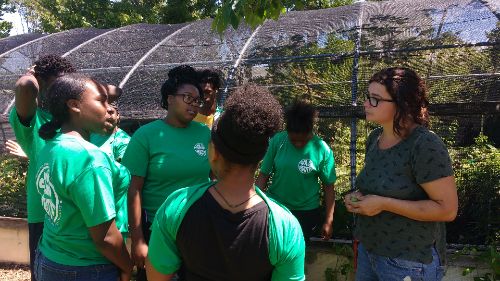 In 2018, the Green Jobs teen interns worked diligently over three seasons to improve and manage six community garden spaces in Westville Manor after being trained in all things plants and landscaping. We value partnerships with community organizations and businesses to expose our interns to new career paths and help build the skills they use to carry out projects. Over the course of the past year, the Green Jobs program was lucky to pay three visits to Hamden's Broken Arrow Nursery to learn horticulture and explore Connecticut's largest agricultural industry.
Liba Judd, sales manager for Broken Arrow, connected with Green Jobs last winter to invite the team out to explore the greenhouses and participate in a workshop focusing on saving winter seeds and learning about native plant identification. In the summer, Liba donated two plants of the team's choice to bring back to their neighborhood, which after much debate ended up being a hydrangea, for its lovely blue flowers, and a native beach plum, for its small tasty fruits. For our fall session, as the holidays approached, we visited Broken Arrow's tree farm, where the interns braved the cold to take in beautiful sunsets, views of Sleeping Giant State Park, and explorations of every conifer variety on site. We took home a picturesque Douglas Fir, which decorated the Solar Youth program space and was later adopted by one of our youth's families.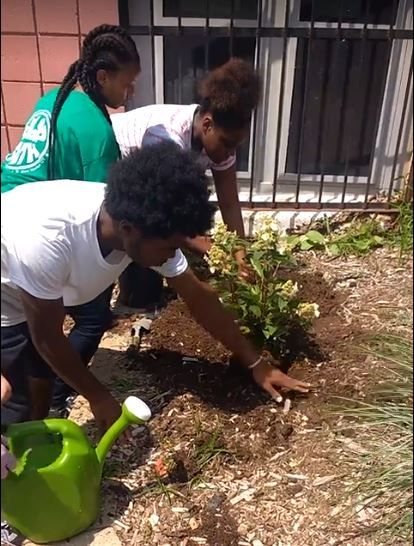 The Solar Youth cycle of Kids Explore! Kids Do! Kids Teach! greatly benefits from a strong spark of inspiration at the outset. We are so grateful to Broken Arrow Nursery and Liba for providing opportunities to explore and new ways to engage the environment. From what they learned, our Interns were able to set up their own saved seed nursery of Mountain Laurel, expand and fill out their gardens with new ornamentals, and see the viability of businesses and careers based around plants. In the fall season, the interns got to repay the favor and led Liba through a tour of their own gardens, cap-stoning everything they learned by teaching it, and completing the cycle of excellence.