Our Approach:
Programs, Presence, Partners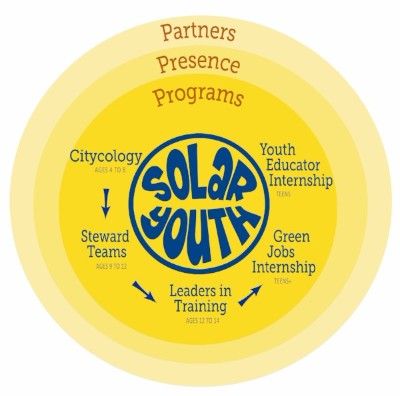 Cycle of Stewardship
Solar Youth provides urban youth with the supports and opportunities to succeed through our "Cycle of Stewardship." In this cycle, through developmental relationships with caring adults, youth progressively build on their experiences, gaining critical developmental assets and serving as Stewards to their communities and environment. 
This Cycle contains a menu of PROGRAMS; PRESENCE; and PARTNERS.
PROGRAMS
A young person's journey can start as early as age 4 and continue into young adulthood.  In the final phase of the Cycle, youth are seasoned leaders, serving as educators for the younger children.  The graphic to the right shows the menu of programs in this cycle.  All incorporate our underlying values and follow our original program model – Kids Explore! Kids Do! Kids Teach!  Learn  more about those in METHODS.
Click on each program below to learn more...
PRESENCE
In addition to programs, Solar Youth nurtures our youth's development through a consistent presence in their communities and lives.  Relationships with staff as well as the organization as a whole provide supports that go beyond program-time.  We become a safe, consistent, loving place for youth throughout their childhood and adolescence.

Hiking the Giant Steps in East Rock Park, New Haven
PARTNERS
Through partnerships with other organizations, Solar Youth provides supports and services that go beyond what we alone can offer.  These include mental health services (Clifford Beers Clinic), conflict resolution (Community Mediation), college planning (Higher Heights, New Haven Promise), financial education (START Community Bank) and more!
See a list of our PARTNERS here.
Learn about our METHODS here.