Solar Youth BLOG
What's new in the world of Solar Youth Stewards, partners and community?
December 17th, 2018
Solar Youth on Ice
By Alyssa D'Amato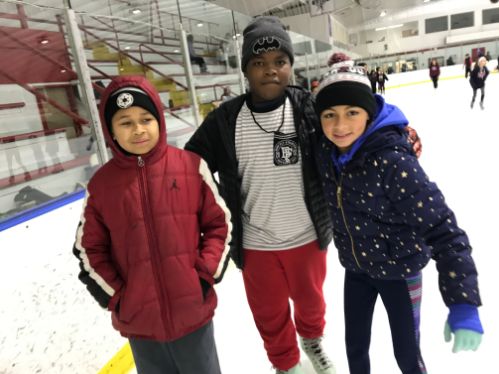 A group of 30 Solar Youth youth worked together to tie up their ice skates for the very first time at the Milford Ice Rink on Saturday, December 1st. As they waited for their peers and open skate to begin, the groups excitement, and confidence  began to to grow. They walked around on the skates, showed off their talents to one another... 100% confident they were going to be expert ice skaters. When the first one stepped onto the ice, Majour, a 5 year old Citycology Steward from Newhallville, his two feet immediately swung up in front of him, falling right onto his back. Everyone stopped, looked at each other, smiled, and stepped right onto the ice- many of them taking similar falls of their own.
Joining our group on the ice was FOSY Becky Mae, who not only organized our trip to the rink but also came to show us how to move on the ice. Becky did it all: she made sure everyone's ice skates were on tight enough; she helped Stewards up when they fell, made sure everyone's ice skates were on tight enough, guided scared Stewards around the rink, and cheered on all of the small skating victories. Words cannot express enough of our gratitude...but we will try: THANK YOU BECKY!!!
Milford Ice Rink were also incredible hosts to our group. Standing at the skating rental booth, Trevon (age 6) told the Milford Ice Rink employee "I don't know HOW TO SKATE" to which he responded, "Don't worry! I will help you."
Once on the ice, many of the older Stewards quickly began to get a hang of ice skating. Andrinique, a 10 year old Steward from Quinnipiac Terrace, and her brother Lamar, quickly began zooming around the rink. Lamar turned to an educator and said "Look! I'm a natural!"
Older Stewards even began leading the younger ones around the rink, helping build their confidence. Mozay (8, Newhallville) and Tor'raye (6, Newhallville) began timidly grabbing onto the edge of the rink, especially after taking a couple of falls early on. Utilizing both the ice rink's pushers and Becky, by the end of the hour and half on the ice they were both excitingly knocking on the glass to show others outside "Look at me! Look at me!"