Summer Fun Has Just Begun
At the time of writing, Solar Youth summer camp is in full swing. This year our "Mashup" collab with Boys and Girls Club provides more kids with more opportunities to make new friends and engage in a wide variety of activities. We are thrilled that enrollment has increased to 85 youth!  
This summer, the adage, "Summer camp is where kids can be kids," is especially poignant. Why does having a great summer experience matter so much right now?
Two years of the pandemic has taken a toll on young people, exacerbating racial inequities in areas such as mental health, physical health, academic progress, social emotional learning, food security and financial stability. Solar Youth summer camp is a place to help restore and heal many of those wounds.
At camp, kids play all day - Our summer camp experience is designed to fill kids' tank of fun, friendship, and well-being that will allow them to thrive when school starts again in the fall. Meanwhile, teenage Interns gain skills in facilitation, leadership, communication and build confidence necessary for success in future employment. 
At camp, kids spend time in nature - Spending time in nature is proven to build confidence, promote creativity and imagination, soothe the mind, and teach responsibility. But the benefits of nature are inequitably distributed by race and income. Our programs promote the access to nature that every child deserves, while driving towards five short-term outcomes that give kids the tools they need to succeed: physical activity, healthy lifestyle choices, positive sense of self, mindfulness, and connection to nature.
At camp, kids know they're in a safe space, despite all the uncertainty in the world - Between an uptick in neighborhood violence during the pandemic and an ever-more polarized political dialogue that trickles out of the media, our kids are growing up in a time that can feel precarious. Our program model is built on creating a safe space for campers, where they develop bonds with peers and develop relationships with adults they can trust. 
Exploring Nature with BioJars
The heat this week in July has been stifling. Is it still possible for youth to safely enjoy the outdoors in these conditions? Why, YES, it is! In the woods, at least. The woods provides a natural canopy which provides much-needed shaded and is a good place to be on a hot morning. Solar Youth staff members and Interns led a group of campers to the neighborhood trails - which Solar Youth Trailblazers created during the pandemic - just across the street from Clarence Rogers School.  With a brook running through it, it was a great place to collect a variety of natural elements to make individual BioJars which can be studied, admired, or simply serve as a reminder of summer fun. Youth explored the brook, the dirt, sticks, leaves, small rocks and gravel which had been laid around the bridges and walkways along the trails. Some campers compared their collections with one another while others delighted in pointing out fish and waterbugs they noticed living in the brook. After a couple of hours exploring in the woods, it was time to walk back to the air-conditioned school and focus on indoor activities. Whoo, that cold air sure felt good!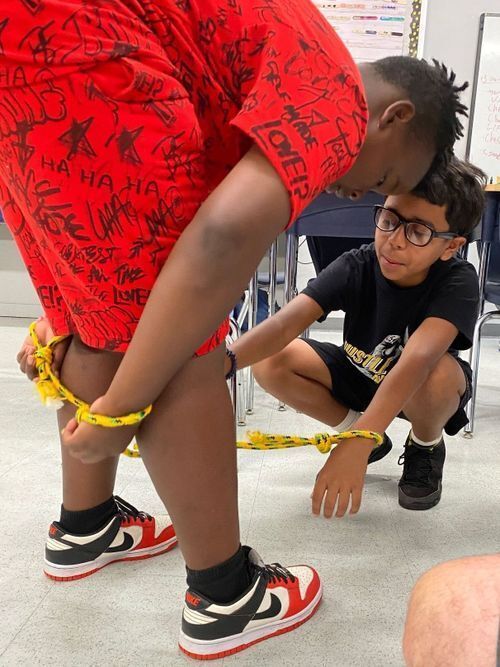 Magic Rope Challenge
Older campers had fun busying themselves solving a puzzle in pairs. In this trick, teams work on untangling themselves from interlocked ropes that link wrists together. The activity promotes communication, problem-solving, reviewing performance and persistence. And it's FUN, too.  Also called "Infinite Loop," this challenge requires players to find a specific solution by adhering to a set of parameters. While the process is more important than the final destination, it's still fund to solve the puzzle in the end. We had a feeling that some youth were plannning to look up the solution on youtube after the day was over. 

One creative pair of campers ignored the rules and found a more, shall we say, direct solution by rubbing the rope together to create enough friction to fray it, thereby setting them free. One point for out-of-the box thinking. Minus one point for breaking the rules!
This was just a small peek into the amazing summer camp experience our hard-working staff has line up for campers. We look forward to so much more to come, including out-of-neighborhood trips!