Solar Youth BLOG
What's new in the world of Solar Youth Stewards, partners and community?
November 13th, 2018
"Trunk or Treat" with the New Haven Police Department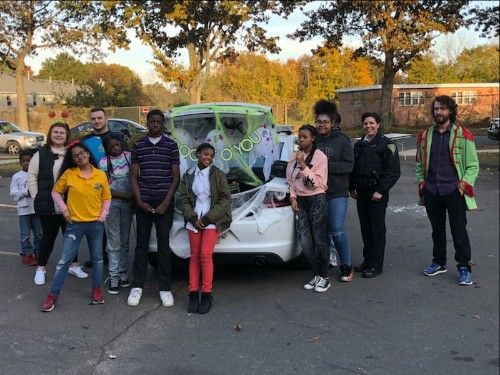 Every Halloween, the New Haven Police Department hosts an event called "Trunk or Treat" in Solar Youth's parking lot in Westville Manor. Children from the surrounding neighborhoods come in costume with their families to visit a Police Cruiser that is decorated in its Halloween best with spider webs, black and orange banners, lights, and music. Most importantly, the trunk of the cruiser has a giant bin of candy for all trick-or-treaters. The event is a fun way for families to get to know their local police force and for officers to engage the community.
This year's Trunk or Treat was organized by the new Westville/West Rock district manager, Lt. Rose Dell who enlisted the help of Solar Youth's Green Jobs Interns in order to create a memorable experience for kids. Our interns transformed their program space into a haunted house for the event and met with Lt. Dell to brainstorm ideas and develop a materials list, budget, and timeline. They set the room up the day before Halloween while the middle school youth in our Steward Team program joined in on the fun by decorating pumpkins for display.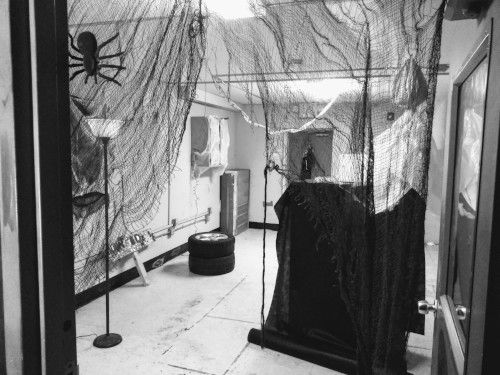 The Green Jobs team came early for Trunk or Treat to help Lt. Dell prepare her police cruiser and practice their haunted house acting techniques. Our Youth Educator Interns, who work with our younger groups, were also present to help greet and welcome the youth they mentor in the neighborhood. The event drew a large turnout and many families enjoyed meeting with the officers, braving the haunted house, and of course, eating Halloween candy.
Intern Ayianna Ball, was impressed by the success of their haunted house and their teamwork: "We're really figuring out how to do this right. Everybody knows what their job is and we're way more organized."
We were grateful for the opportunity to partner with Lt. Dell and the New Haven Police Department on a successful community building event. It provided an important opportunity for our interns to develop positive working relationships with local officials and be seen enacting positive change in their neighborhood. We are looking forward to doing it again next year!