Solar Youth BLOG
What's new in the world of Solar Youth Stewards, partners and community?
Youth at the State Capitol!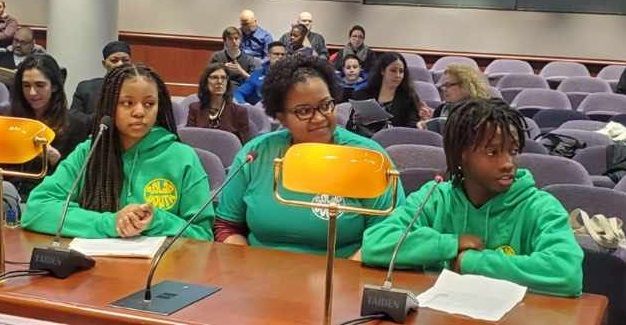 On Tuesday, Feb. 11th, current YEI intern Curtisy McGill and former Green Jobs intern Zarquis Sanders ventured to the State Capitol to speak at the Appropriations Committee's public hearings to make the case for funding, accompanied by Nicole Dunnaville, Solar Youth's Empowerment Coordinator. Not your typical, after-school activity!
On the way to the Capitol, both interns expressed fear of the unknown. This would be their first time speaking at something like this and they wanted to deliver their speeches perfectly. They practiced several times with music breaks in between to get themselves pumped up!
Upon early arrival at the Legislative Office Building, they were greeted by Jeffrey Shaw from the CT Nonprofit Alliance. He explained the process of the hearings and showed our group to the room where it would be held.
Solar Youth was first to speak. Afterwards, Curtisy and Zarquis received nothing but praise and encouragement from State Representatives Porter, Walker and Winfield as well as other members of the Appropriations Committee. 
After all was said and done, Curtisy and Zarquis expressed how excited they were to partake in this process and how they would definitely do it again. We are so proud of their commitment, courage and leadership!  
Their written testimony can be found HERE.