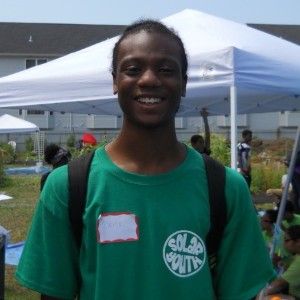 My name is Daris; I am 16 years old, and I attend Eli Whitney Technical High School for Culinary Arts. I am from New Haven and grew up in an area known as The Tribe. I've been in Solar Youth for three years. I wasn't a part of Solar Youth as a child, but in the three years I've been in Solar Youth it has made a big impact on my life.
I first joined Solar Youth when I found an opportunity to work in the Green Jobs program at the age of 14. I was so excited, but I didn't know what I was getting myself into. All I knew was one day there were people coming to my neighborhood to recruit interns for a program, and I needed a job and money. Later on that week I filled out the paperwork and turned it in only to find out that the deadline had already passed. That was the first lesson Solar Youth taught me: the impression you make or leave on others can hurt or benefit your future.
Thankfully, Solar Youth gave me a second chance to convince them why I was a good candidate to represent Solar Youth. I did the interview, and I was very nervous; I had butterflies in my stomach and my head and hands were extremely sweaty. Finally they called and told me I got the job, and I instantly knew that I would have a bright future in Solar Youth. It was then I learned my second lesson at Solar Youth: how to apply and interview for a job.
I was encouraged to apply to be a Youth Educator in the Fall of 2017 because of my outstanding work ethic and perseverance. I was nervous because it was a huge step up from the Green Jobs program. I was now responsible for empowering and supporting smaller children. But when the first day came it was fun! I helped them with their homework and we played team building games. The kids helped me to get out of my comfort zone. It was then, that I realized another thing that Solar Youth teaches you: they encourage you to step up and be a leader. They support you to grow beyond what you think your limits are.
Overtime Solar Youth has taught me to be a leader by walking away from negative people and violence and how to deal with conflict without hurting someone or being hurt by others. That's called non-violent communication, and it's a method used to prevent violence by confronting a conflict in a way that leaves both people involved feeling heard and with action steps to make the situation better.
The skills Solar Youth has taught me can not only help me in the short term but in the long term as well. Everything I've learned I can apply to my everyday life, when it comes to school, my future career, and my relationships. Solar Youth has become a huge part of my life and I don't know where I would be without them.