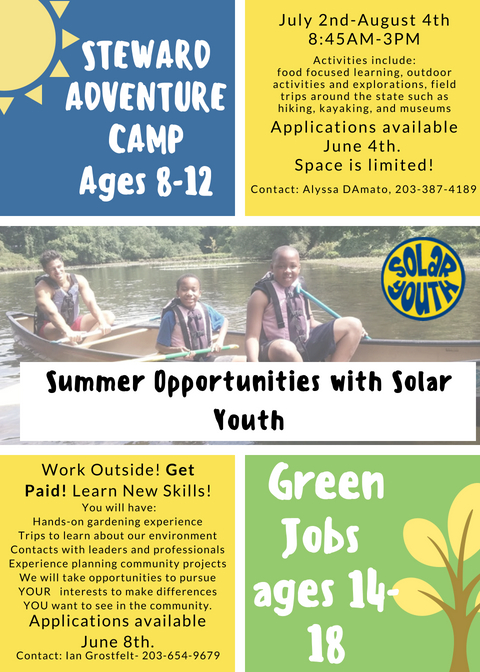 Other Opportunities
Solar Youth will be continuing our partnership with Schooner Summer Camp. They are expanding to serve youth aged 4-12 and have several scholarship spaces open. Learn more here. Applications will be available at the Solar Youth office starting June 4th. 
For youth under age 4 or over age 12, we recommend that families call 211, and ask about what summer options are available in New Haven. In addition, Mayor's Summer Youth Guide 2017 is a wonderful resource for families looking for alternative camp options.
Curious about what other resources are available in New Haven during the summer? Email Empowerment Coordinator Kenisha. 
Steward Adventure Camp
Like last summer, Solar Youth will be holding Steward Adventure Camp for Stewards aged 8-12 (4th grade-7th grade).
2018 Summer Theme: Food for Thought
Activities include: planting, hiking, food focused lessons, outdoor exploration, and adventure trips across the state of Connecticut.
July 2nd- August 4th
Applications will be available starting June 4th.
Want us to mail you an application?
Click Here!
Green Jobs
Summer Work opportunity for teens currently enrolled in High School, ages 14-18.
***Available to residents of Elm City Communities (Housing Authority of New Haven)***
Work Outside! Get Paid! Learn New Skills!
Join us for a great opportunity to explore the environment around New Haven and serve your community.
You will have: hands on gardening experience, trips to learn about your environment, contact with leaders and professionals, experience planning community projects.
Applications available June 8th. Contact Green Jobs Manager Ian with any questions.