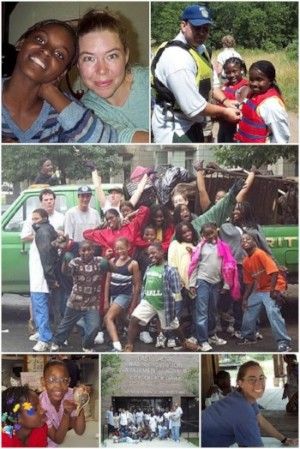 1999-2000
Solar Youth, Inc. was founded in the fall of 2000 to help address the tremendous need for positive youth development opportunities in New Haven's low-income neighborhoods.  
After graduating from the Yale School of Forestry and Environmental Studies, founder Joanne Sciulli saw the amazing potential of the natural and cultural resources of New Haven to be used for education, community service and leadership development. After being awarded a Social Entrepreneurship Fellowship from the Echoing Green Foundation, she, co-Founder Heather Gilbert and a group of young people developed the mission and program model (Kids Explore! Kids Do! Kids Teach!) that ultimately became the basis for Solar Youth.  
SY's first program was piloted out of the Dixwell Community House in summer of 1999
1999-2000 school year we pilot our after-school program at Brennan Elementary and Fair Haven Middle schools
After a summer in the community room at Westville Manor housing project, Solar Youth was officially incorporated in November of 2000, assisted by a cohort of youth co-founders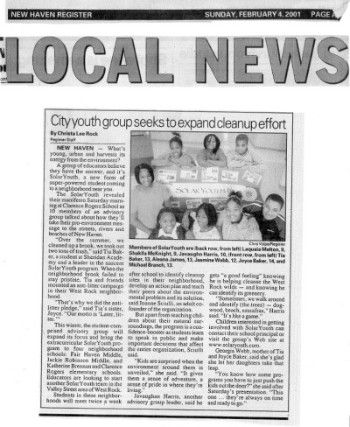 2001-2005
After a youth-organized launch breakfast, we continued our Steward Team after-school programs.  Our office moved from an amabdoned bank to an apartment unit in Brookside, before it was demolished and redeveloped.  In addition to programs there, we ran programs in McConaughy Terrace, East Shore development, Quinnipiac Terrace, 720 George Street (in collaboration with Mutual Housing of New Haven), Fair Haven Middle School, and other schools around the city.
During this time, youth designed and led Community Service Action Projects in their communities, including:
River, park and neighborhood clean-ups
Fundraising for soup kitchens and homeless shelters
Graffiti removal and education
Landscaping and flower planting
Storm-drain stenciling
Anti-smoking campaigns, 
and MORE!
2007-2010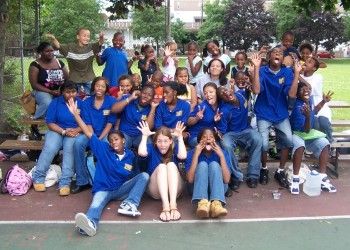 In 2007, Solar Youth staff, board members and youth developed a Strategic Plan that defined our vision for growth, resulting in the decision to develop a pipeline of programs for youth of all ages in specific underserved neighborhoods in New Haven.  These neighborhood-based programs came to be called our Cycle of Stewardship. 
We piloted these neighborhood-based programs in the Westville Manor public housing development from 2008 to 2010, with extensive participation from the neighborhood's youth and the community at large, and considerable evidence of strong positive developmental outcomes for our young Stewards. 
2010-2013
Following Strategic Plan and pilot, we replicated the model in 2 other neighborhoods

West Hills in 2011; Newhallville in 2012 

However, not all programs were delivered due to funding capacity.
2014-2017
...coming soon!
2018
...coming soon!